If you have recently received a new wireless router or modem from Spectrum, it is important to change your WiFi name and password. Changing your Wi-Fi SSID makes it easy to remember and does not conflict with your neighbor's WiFi signals using the same default name. Moreover, it makes it difficult for hackers to breach your network and helps you remember the password. This guide will show you how to change your WiFi name and Password through Spectrum.net, the My Spectrum app, and using a modem/router IP address.
Why should you change Default (SSID) Network Name and Password?
When it comes to securing your home internet, you must change the default SSID and password, as well as the modem/router admin access. Spectrum also recommends changing default settings to safeguard your network from unauthorized access, especially when it comes to wireless routers.
Default Network Name
Spectrum WiFi uses a default wireless network name that can be easily recognized in the neighborhood. Sometimes it can also conflict with your neighbor's signals even though you are using a different password. Moreover, the default SSID makes it accessible to attackers before you secure it. As a result, someone may already be in your home network and may have been accessing your personal information without you even knowing.
Default Wi-Fi Password
Device manufacturer makes the bulk of routers that may come with the same SSID and WiFi password. If you leave it unchanged, hackers will easily access your wireless internet and plant malware in your network. It is also possible for them to change your password and make you out. However, that can be solved with a simple reset.
Administrator Password
The Spectrum modem comes with the default "admin" username and password. For some users, it can be "ADMIN" with capital letters. You can find the administrative credentials and IP address on the back of your equipment.
It is important to change the default administrative password of your modem if you want to completely secure your home network from intruders. This way, only you as administrator can access your modem/router settings and block unauthorized access within your network.
If you don't change your default password, there is a chance that a hacker can access your Router and lock you out of your own home network. Therefore, changing the default admin password is necessary to secure your internet.
Why you should often change your Wi-Fi name and password?
No matter how sure you are that your Wi-Fi password is secure, make it a routine to change your passwords periodically. A safe interval between changing your password is every two to three months. This practice will keep your Wi-Fi fast and efficient and prevent interruptions from those hooked onto your source. The number of simultaneous WiFi connections can affect your download speed and slow down your connection.
Moreover, if you have children in your home, you should change the router default admin password for safety reasons. They can access the entire network and change Wi-Fi and parental control settings.
Now without further ado, let dive into how to change your Charter Spectrum WiFi name and password:
How to change Spectrum WiFi name and password using LAN IP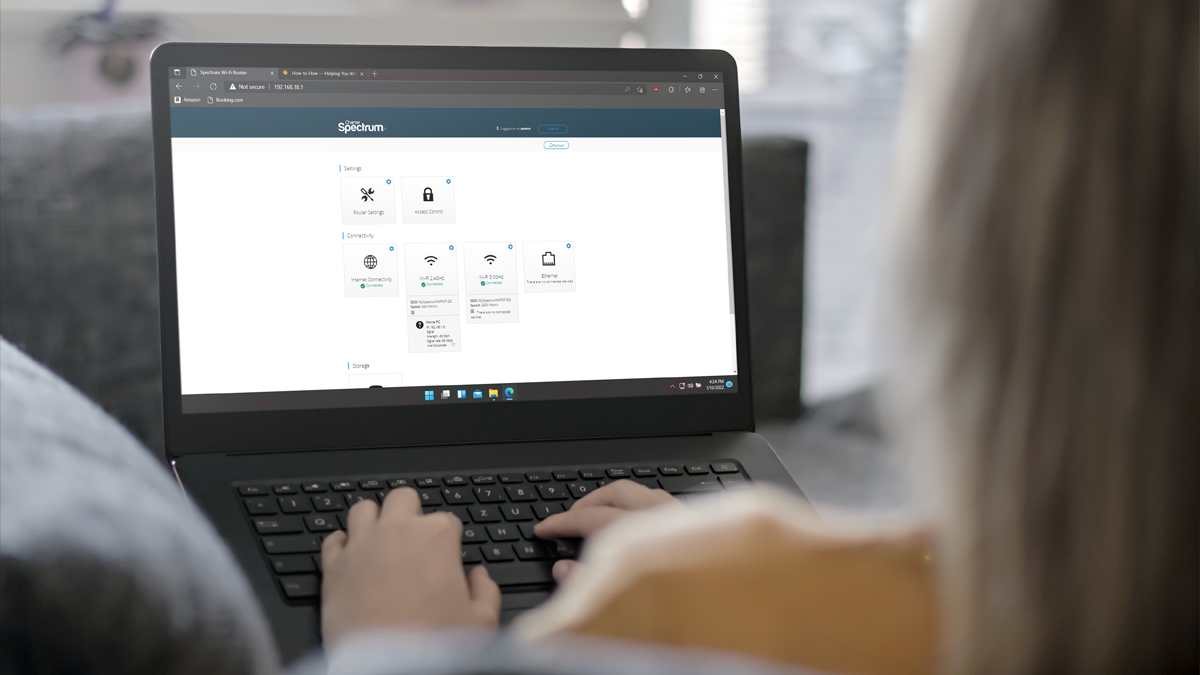 This is an old-fashioned way that requires a web browser and a LAN connection, preferably Ethernet. For this method, you need a laptop connected to the Charter Spectrum Wi-Fi router via a wired connection and the LAN IP.
1. Connect your Laptop to Modem/Router and Launch Web Browser
First, connect your laptop or desktop PC to your modem or WiFi router via Ethernet cable and launch any web browser.
2. Enter Modem/Router IP Address
Type the IP address mentioned on the backside of your Spectrum modem or WiFi Router and hit enter. (Note: you might see a warning that says your connection is not private, click on advance and proceed to next.)
3. Login with Administrator username and password
Use your admin credential listed on the back of the modem or router. Usually, it would be admin/admin.
4. Select Wi-Fi Band
Once you successfully logged in to your router, you'll see a bunch of options. Select 2.4GHz it will load the Basic setting page. From there, change your SSID and then password to whatever you like. Once done, press the "Apply" button, go back to the main page, and follow the same procedure for the 5GHz band.
5. Reboot your Spectrum Router
After making the changes go back to the main Web UI and click Router settings. Then go to the Maintenance tab and press the "Restart" button. You can also do that by turning off the Router using the button on the back of your device.
That's it; you have successfully changed your Spectrum router WiFi name and password. However, there are also alternate ways to modify your modem and router settings using the mobile app and Spectrum.net website.
How to change Wi-Fi password using Spectrum.net account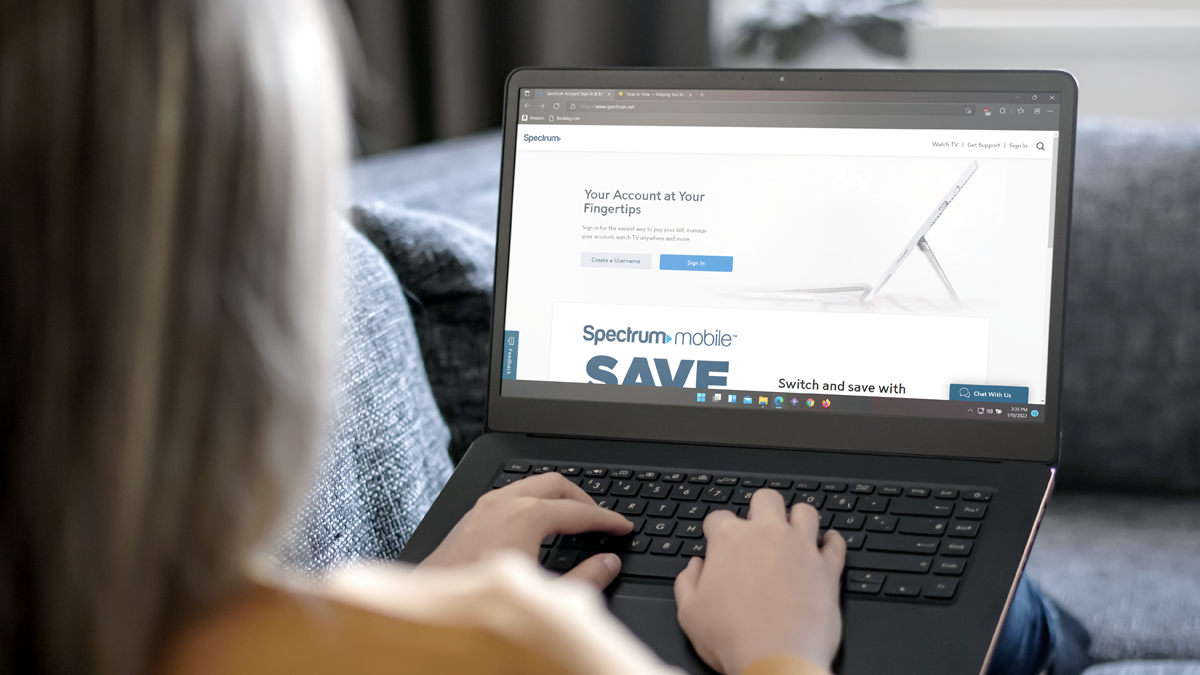 Changing your WiFi name and password through Spectrum.net account is pretty easy. The Web Portal allows you to pay your Spectrum bills for Charter Internet services and update your network equipment settings. To do so, follow these simple steps:
Visit Spectrum.net and login into your account.
Once you are in your Account Dashboard, scroll down and select Internet & WiFi.
Now, scroll down to "Your WiFi Networks" and click on the drop-down arrow icon.
From there, select the "Manage Network" button.
Then enter your new WiFi name and password.
Click the "Save" button to save settings.
Once you update your SSID, reboot your Router.
How to change Wi-Fi name and password using My Spectrum App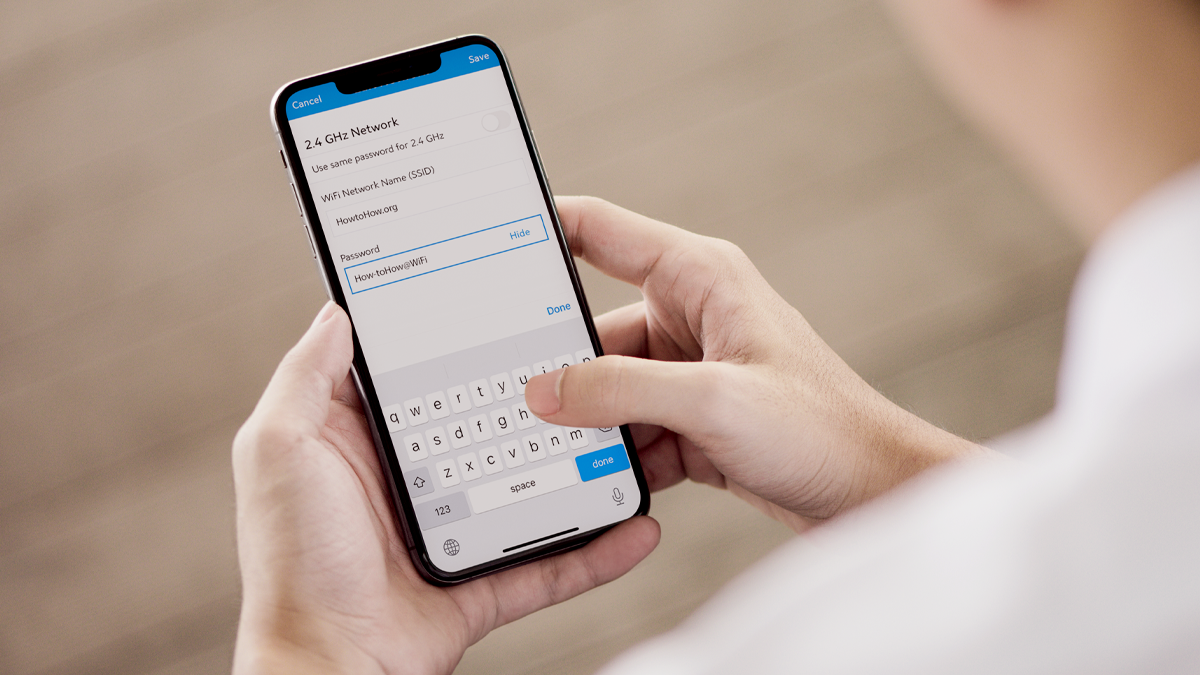 Besides the client portal, Charter Internet consumers can also use My Spectrum App to change your equipment settings. It is easy and convenient for those who don't have a laptop or desktop PC. The mobile app is available for both Android and iOS devices, so you don't have to worry about compatibility issues. Just download the app on your tablet or phone, sign in to your customer account and follow these simple steps:
Launch My Spectrum App.
Tap on the "Services" tab at the bottom menu.
Under the "Your Spectrum Network" option, your will see your current SSID. Select the network name your want to change.
Change the WiFi name and password, and tap on the "Save" button.
Reboot your router if necessary. Now reconnect to your newly revised network SSID.
How to change Spectrum Modem and Router Admin Password
Like we mentioned earlier, it's important to change the admin password of your router and modem to fully secure your network. The method may vary depending on the model of your equipment. Here are the steps to change your modem/router administrative access for Charter Spectrum:
Launch a web browser on your computer.
Enter your modem/router IP address and press enter.
Go to Access Control.
Click on the "User" tab.
Ensure "admin" is selected for the username.
Enter your old password and then a new one in the fields.
Click on the "Apply" button.
Reboot.
Frequently Asked Questions
The default Spectrum router IP should be 192.168.1.1 or 192.168.0.1. However, in some gateways of Charter Internet, it can be 192.168.18.1. You can find the IP on the back of the device.
Go to www.spectrum.net and log in to your account. In the Services tab, click on Internet. To see the network SSID and password for your gateway or router, click on the blue downward arrow. There you will see your Spectrum Wi-Fi username and password will be displayed on this screen.
You can manage devices on your network by logging into the My Spectrum app. Tap on the Services tab located at the bottom menu. Under devices, tap on manage devices. Here you can select the device you want to remove, pause and schedule pause.